Happy Rose Day Shayari in Hindi ! Gulab Shayari
This is Gulab Shayari page and 7th February is a Rose day. So now we have posted Happy Rose Day Shayari in Hindi at poetry tadka. So visit poetry tadka Rose Day Shayari page and read latest rose shayari.
फूल है गुलाब का चमेली का
मत समझना, जान हो तुम मेरी,
मुझे बेजान मत समझना।
Phool hai gulab ka chamelee ka
mat samajhana, jaan ho tum meree,
mujhe bejaan mat samajhana.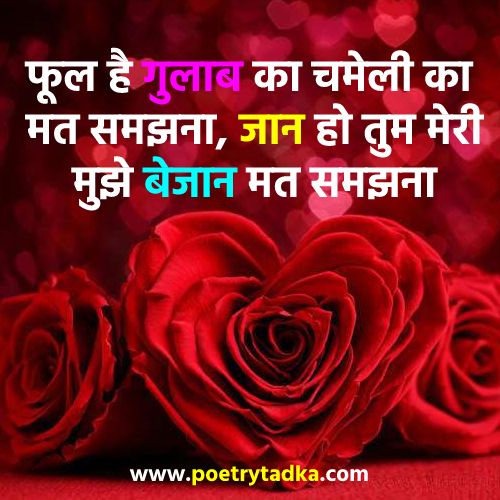 मेरी दीवानगी की कोई हद नहीं
तेरी सूरत के सिवा मुझे कुछ याद नहीं
मैं गुलाब हूँ तेरे गुलशन का
तेरे सिवाए मुझपर किसी का हक़ नहीं
Meree deevaanagee kee koee had nahin.
Teree soorat ke siva mujhe kuchh yaad nahin.
Main gulaab hoon tere gulashan ka.
Tere sivae mujhapar kisee ka haq nahin.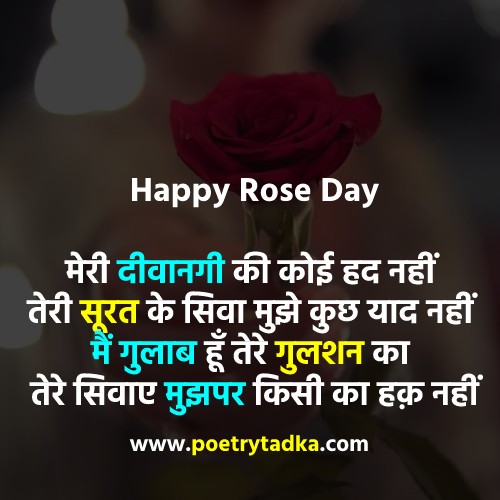 हुस्न और खुशबु का सबब हो तुम,
ऐसा खिलता हुआ गुलाब हो तुम,
तुम जैसा हसीन न होगा इस जहाँ में
तमाम हसीनों में लाजवाब हो तुम।
Husn aur khushabu ka sabab ho tum.
Aisa khilata hua gulaab ho tum.
Tum jaisa haseen na hoga is jahaan mein.
Tamaam haseenon mein laajavaab ho tum.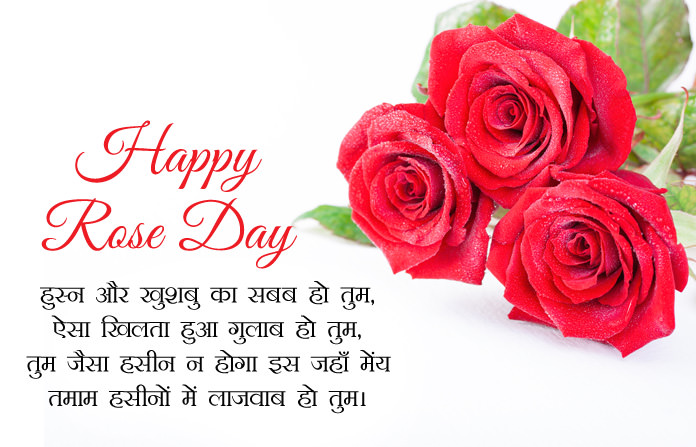 आपके होंटो पे सदा खिलते गुलाब रहे।
खुदा ना करे आप कभी उदास रहे,
हम आपके पास चाहे रहे ना रहे.
आप जिन्हे चाहे वो सदा आपके पास रहे
Aapake honto pe sada khilate gulab rahe.
Khuda na kare aap kabhee udaas rahe.
Ham aapake paas chaahe rahe na rahe.
Aap jinhe chaahe vo sada aapake paas rahe.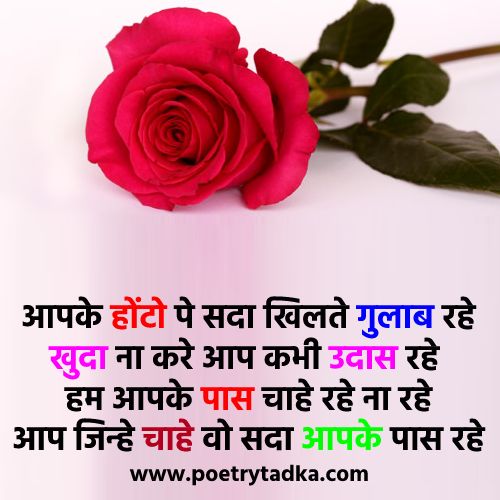 चेहरा आपका खिला रहे गुलाब की तरह
नाम आपका रोशन रहे आफताब की तरह
ग़म में भी आप हँसते रहे फूलों की तरह
अगर हम इस दुनिया में न रहें आज की तरह
Chehara aapaka khila rahe gulab kee tarah.
Naam aapaka roshan rahe aaphataab kee tarah.
Gam mein bhee aap hansate rahe phoolon kee tarah.
Agar ham is duniya mein na rahen aaj kee tarah.