Good Jokes
Good Jokes in Hindi one more popular joke page of poetry tadka website. At this page find Good jokes including good jokes in english and many more.
फैन तो हमारे भी बहुत है.
पर सर्दी की वजह से
घरवाले चलाने नहीं देते हैं.
Fan To Hamaare Bhee Bahut Hai
Par Sardee Kee Vajah Se
Gharavaale Chalaane Nahin Dete Hain.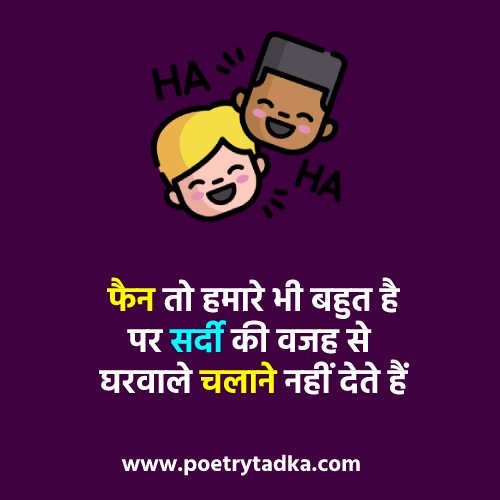 एक स्पेलिंग मिस्टेक की वजह से एक किताब की 10 लाख कॉपी दो दिन में ही बिक गईं।
दरअसल, ये गलती उस किताब के टाइटल में हो गई थी।
किताब का नाम था-
'एक आइडिया जो आपकी Life बदल दे'
और गलती से हो गया-
'एक आइडिया जो आपकी 'Wife बदल दे'