Brother Shayari
Hey friends now your are brother shayari collection page. And now you can read Happy birthday Shayari for brother in Hindi. And many more special day like brother day shayari in Hindi at Poetry Tadka. So go below and red latest bhai shayari in Hindi only on poetry tadka bhai ki shayari page. Teri meri banti nahin par, tere bina meri chalti bhi nahin. तेरी मेरी बँटी नहीं पर तेरे बिना मेरी चलती भी नहीं.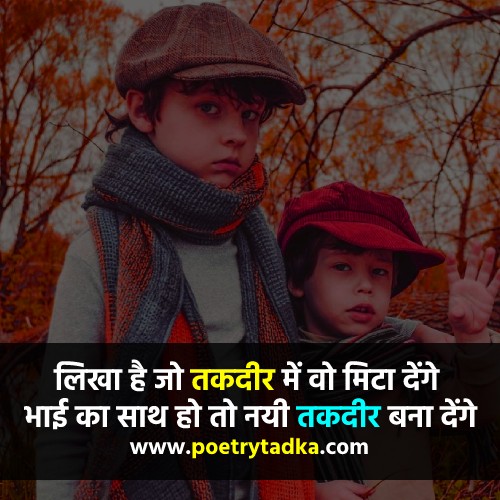 लिखा है जो तकदीर में वो मिटा देंगे,
भाई का साथ हो तो नयी तकदीर बना देंगे।
Likha hai jo taqdeer me wo mita dengey
Bhai ka sath ho to nayi taqdeer bana dengey.
दिल के प्यार को कभी जताया नहीं
भाई तू मेरी जान है तुझको कभी बताया नहीं।
Dil Ke pyar ko kabhi jataya nahin jata
Bhai too meri jaan hai tujhko kabhi bataya nahin jata.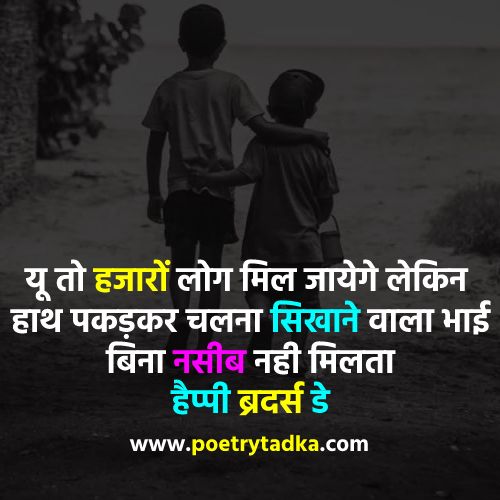 यू तो हजारों लोग मिल जायेगे लेकिन
हाथ पकड़कर चलना सिखाने वाला भाई
बिना नसीब नही मिलता
हैप्पी ब्रदर्स डे
Yoo to hajaron log mil jayenge lekin
hath pakadkar chalna sikhane vala bhai,
bina naseeb nahi milta.

जिंदगी में सब कुछ आसान
लगने लग जाता है
जब भाई कह देता है
कि तू डर मत मैं हूं ना
Zindagi mein sab kuchh aasaan
lagne lag jaata hai.
Jab bhai kah deta hai
ki too dar mat main hoon na.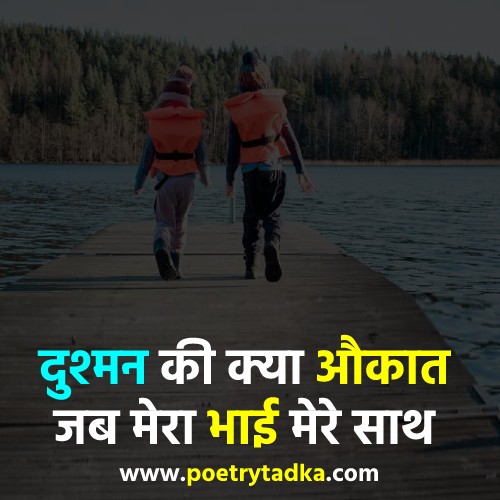 दुश्मन की क्या औकात,
जब मेरा भाई मेरे साथ।
What is the power of the enemy,
When my Bhai with me.
दिल के जज्बात बड़े हो जाते हैं,
जब मुसीबत में भाई खड़े हो जाते हैं।
Hearts grow up when,
brothers stand in trouble.