Heart Touching Breakup Quotes in Hindi English
This page is all about breakup quotes and here you can find out all in one breakup quotes in Hindi like breakup motivation quotes, heart touching breakup quotes and many more in Hindi and English.
जिसको अपना समझा उसने कभी समझा ही नहीं,
वो नासमझ मुझे समझदार बना गई।
Jisako apana samajha usane
kabhee samajha hee nahin,
vo naasamajh mujhe
samajhadaar bana gaee.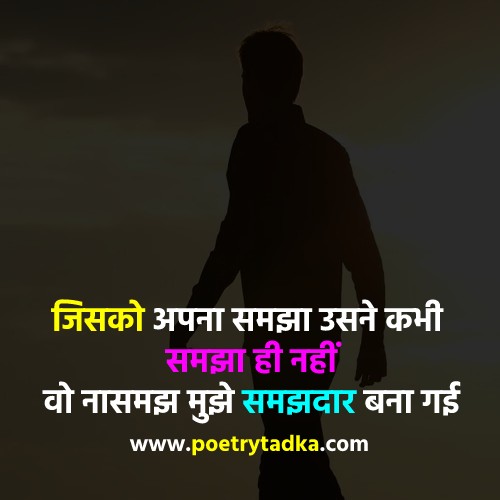 मत सोच इतना जिन्दगी के बारे मे
जिसने जिन्दगी दी है उसने भी तो कुछ सोचा होगा.
तुम जिन्दगी में आ तो गये हो मगर ख्याल रखना,
हम जान दे देते हैं मगर जाने नहीं देते
काश उसे चाहने का अरमान न होता
मैं होश में रहते हुए अनजान न होता
न प्यार होता किसी पत्थर दिल से हमको
या फिर कोई पत्थर दिल इंसान न होता
Kaash use chaahane ka aramaan na hota.
Main hosh mein rahate hue anajaan na hota.
Na pyaar hota kisee patthar dil se hamako.
Ya phir koee patthar dil insaan na hota.