Alvida Shayari ! Good bye Shayari in Hindi
Hi buddy now you are at Alvida Shayari collection page by poetry tadka. Now you can read अलविदा शायरी to say good bye to any one using Good bye Shayari in Hindi.
जाने वाले से मुलाक़ात न होने पाई.
दिल की दिल में है रही बात न होने पाई.
Jane wale se mulaqaat na hone pai.
Dil ki dil me he rahi baat na hone pai.
बस इक रवायत है अलविदा कहना.
जाने वाले जुदा नहीं होते.
Bas ik rawayat hai alvida kahna.
Jane wale juda nahin hote.
अलविदा कहते हुए जब उनसे कोई निशानी मांगी,
वो मुस्कुराते हुए बोले की जुदाई काफी नहीं है क्या
Alvida kahte huye jab usne koi nishani mangi.
Wo muskurate huye bole ki judia kafi nhni hai kia.
जब अपने ही परिंदे किसी और के
दाने के आदि हो जाएं तो उन्हें
अलविदा ही कह देना चाहिए
Jab apne hee parinde kisi aur ke
daane ke aadi ho jaye to unhen
alvida he kah dena chaahiye.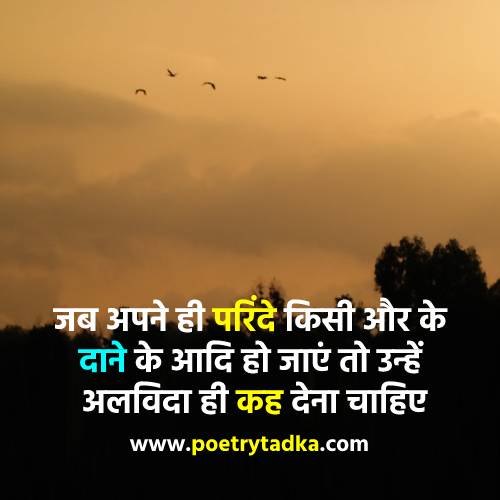 अलविदा कह दिया उन्हे
जिनसे कभी जुदा होने
के बारे मे सोचा भी नहीं था।
I said goodbye to them
jinase kabhee juda hone
ke baare me socha bhee nahin tha.

उसने यह शोच कर मुझे अलविदा कह दिया
गरीब है मोहब्बत के सिवा और क्या देगा.
Usne ye choch kar mujhey alvida kad diya.
Gareeb hai mohabbat ke siva aur kya dega.