Allama Iqbal Quotes
Allama Qqbal Quotes posts are designed for Allama Iqbal Poetry and quotes. At this page we have posted Allama Iqbal poetry in Hindi and English fonts along with Allama Iqbal quotes in Hindi Urdu and English.
دعا تو دل سے مانگی جاتی ہے زبان سے نہیں
قبول تو اسکی بھی ہوتی ہے جس کی زبان نہیں
علامہ اقبال
Dua To Dil Se Mangi Jati Hai
Juban Se Nahin.
Qubool To Uski Bhi Hoti Hai
Jiski Juban Nahin.
Allama Iqbal.
दुआ तो दिल से मांगी जाती है जुबान से नहीं
क़ुबूल तो उसकी भी होती है जिसकी जुबान नहीं.
Kyon Minnaten Mangta Hai Auron
Ke Darbaar Se Iqbal.
Wo Kaun Sa Kaam Hai Jo Hota
Nahin Tere Parwardigaar Se.
क्यों मिन्नतें मांगते है औरों
के दरबार से इकबाल
वो कौन सा काम है जो होता
नहीं तेरे परवरदिगार से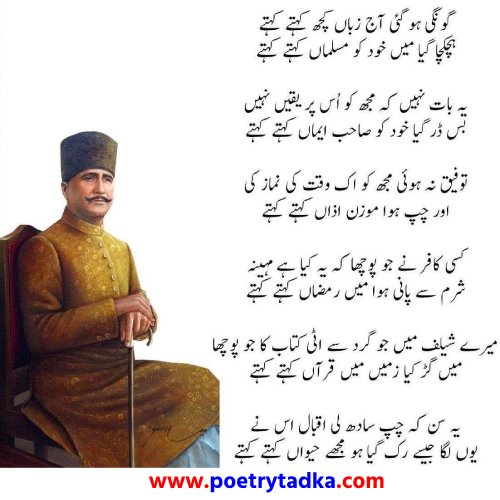 खुदी को कर बुलंद इतना
की हर तकदीर से पहले,
खुदा बन्दे से खुद पूछे
बता तेरी रजा क्या है।
Khudee Ko Kar Buland Itana
Kee Har Takadeer Se Pahale,
Khuda Bande Se Khud Poochhe
Bata Teree Raja Kya Hai.