Aaj Ka Gyan
Hi now you are looking Aaj Ka Gyan. Don't worry now you are poetry tadka आज का ज्ञान collection page. And here find out आज का ज्ञान, Aaj ka gyan, Aaj ka gyan quotes in Hindi.
आज का ज्ञान :
जन्म और मृत्यु ईश्वर के हाथ में है.
इंसान के हाथ में सिर्फ मोबाइल है.
Today's Knowledge :
Life And Death Are In The Hands Of God.
There Is Only Mobile In The Hands Of Man.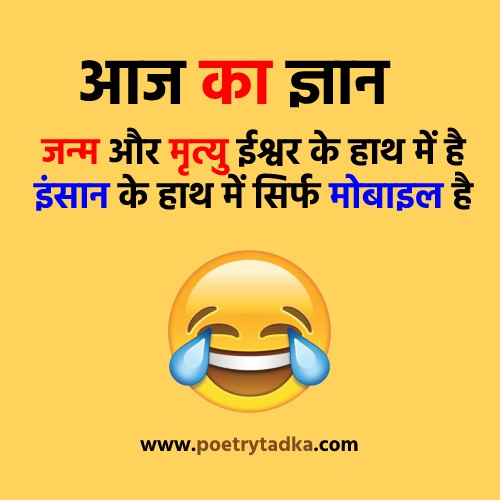 हर इंसान अपनी जुबां के पीछे छुपा हुआ है !
अगर उसे समझना है तो
उसे बोलने दो !!
Har Insan Apni Zuban Ke
Piche Chupa Huaa Hai !
Agar Use Smajhna Hai To
Use Bolne Do !!