Swami Vivekananda Quotes
2022-05-17 05:28:55
Swami Vivekananda Quotes in Hindi is another author page of poetry Tadka. Read latest Swami Vivekananda thoughts in Hindi with विवेकानंद के अनमोल वचन.
संभव की सीमा जानने का
केवल एक ही तरीका हैं
असंभव से भी आगे निकल जाना !
जिस दिन आपके सामने कोई समस्या
ना आये आप सुनिश्चित हो सकते हैं कि
आप गलत मार्ग पर चल रहे हैं।
जीवन में ज्यादा रिश्ते होना
जरूरी नहीं है लेकिन जो रिश्ते हैं
उनमें जीवन होना जरूरी है

Jeevan mein jyaada rishte hona
jarooree nahin hai. Lekin jo rishte hain
unamen jeevan hona jarooree hai.

अपना जीवन एक लक्ष्य पर निर्धारित करो
अपने पूरे शरीर को उस एक लक्ष्य से भर दो
और हर दुसरे विचार को अपनी ज़िन्दगी से
निकाल दो. यही सफ़लता की कुंजी है

Apna jeevan ek lakshy
par nirdhaarit karo.
Apne poore shareer ko
us ek lakshy se bhar do.
Aur har dusare vichaar ko
apanee zindagee se nikaal do.
Yahee safalata ki kunjee hai.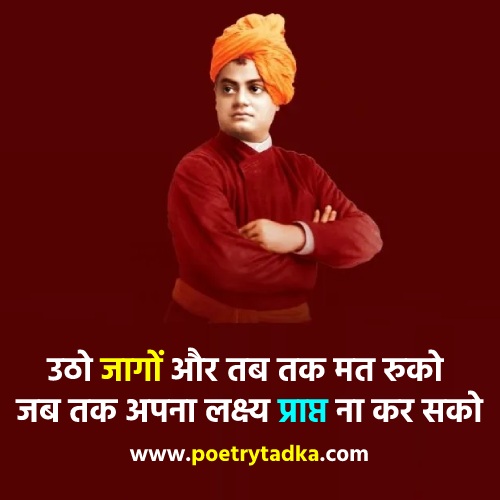 उठो जागों और तब तक मत रुको
जब तक अपना लक्ष्य प्राप्त ना कर सको।

Utho jaagon aur tab tak mat ruko
jab tak apna lakshya praapt na kar sako.