Mahatma Gandhi Quotes
2022-02-15 05:46:06
This page is dedicated to Mahatma Gandhi quotes and here you can find a largest collection of quotes of Gandhiji in Hindi. For more latest Mahatma Gandhi quotes in Hindi please go bottom at slogan of Gandhiji page.
खुद वो बदलाव बनिए जो आप
दुनिया में देखना चाहते हैं
khud vo badalaav banie jo aap
duniya mein dekhana chaahate hain.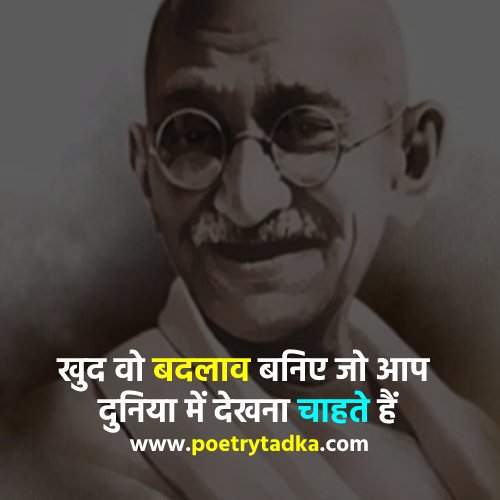 आँख के बदले में आँख
सारी दुनिया को अँधा बना देगी।
Aankh ke badale mein aankh
Poori duniya ko andha bana degi.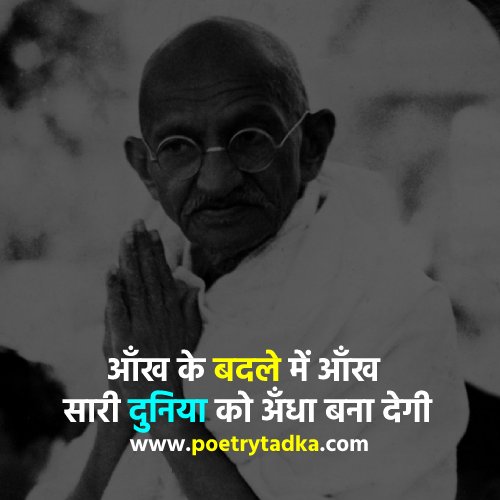 व्यक्ति अपने विचारों से निर्मित प्राणी है
वह जो सोचता है वही बन जाता है
Insaan apane vicharon
se nirmit paradi hai.
Wah jo sochata hai
vahi ban jaata hai.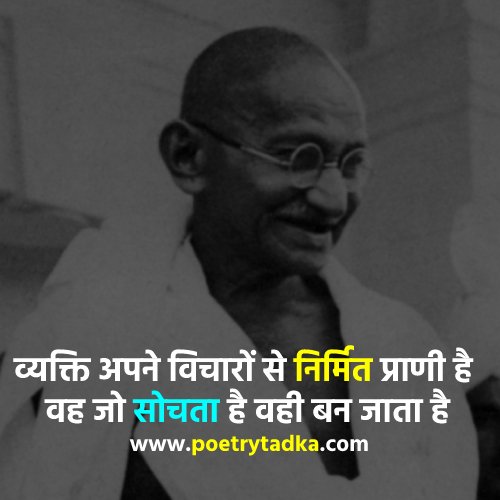 हमारा स्वास्थ्य ही है जो हमारा
सबसे कीमती उपहार हैं
सोने चांदी का मूल्य इसके
सामने कुछ नहीं
Hamaara svaasthya hee hai
jo hamaara sabse keemti uphaar hain.
Sone chaandi ka moolya iske
saamne kuchh nahin.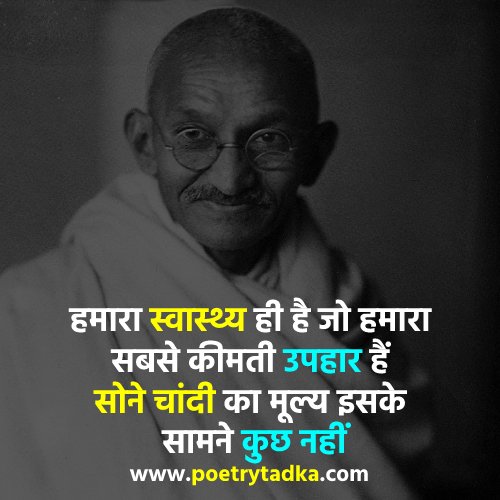 अहिंसा मानवता के लिए सबसे बड़ी
ताकत है यह आदमी द्वारा तैयार
विनाश के ताकतवर हथियार से
अधिक शक्तिशाली है
Ahinsa maanavta ke liye sabse badi
taakat hai. Yah aadmi dwara tyaar
vinaash ke taakatwar hathiyaar se
adhik shaktishaalee hai.