APJ Abdul Kalam Quotes
2022-02-13 13:06:22
APJ Abdul kalam quotes in Hindi and English fonts at poetry tadka. Also red APJ Abdul Kalam thoughts in Hindi. So go below and ऐ पी जे अब्दुल कलाम के अनमोल विचार and quotes in Hindi.
एक अच्छी पुस्तक हज़ार दोस्तों के
बराबर होती है जबकि एक अच्छा दोस्त
एक लाइब्रेरी के बराबर होता है।
Ek achchhi book hazaar
doston kebaraabar hoti hai.
Jabaki ek achchha dost ek
library ke baraabar hota hai.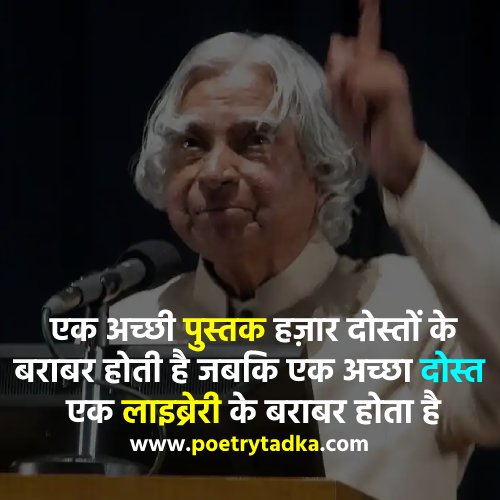 आपके सपने सच हो इससे पहले
आपको सपने देखने होंगे।
Aapke sapne sach ho
isase pahale aapako
sapane dekhane honge.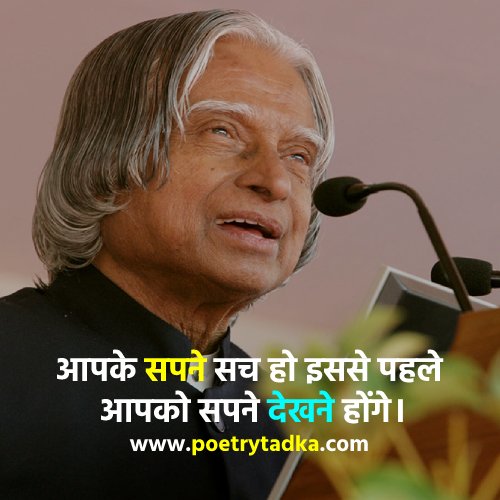 आसानी से मिलने वाली हर
वो चीज हमेशा तक नहीं रहती,
जो हमेशा तक रहती है
वो आसानी से नहीं मिलती

Aasaani se milne vaali har vo
cheej hamesha tak nahin rahti.
Jo hamesha tak rahati hai
Wo aasaani se nahin milti.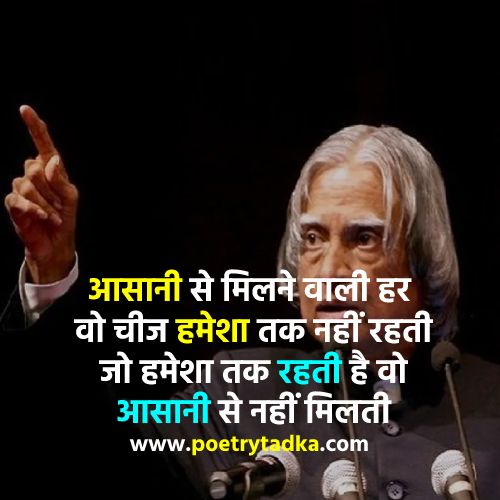 लोग आपकी बातो का
यकीन तबतक नहीं करेंगे जबतक
आपके Results उन्हे हिला नहीं देते
Log aapki baato ka yakeen
tabatak nahin karenge. Jabatak
aapke result unhe hila nahin dete.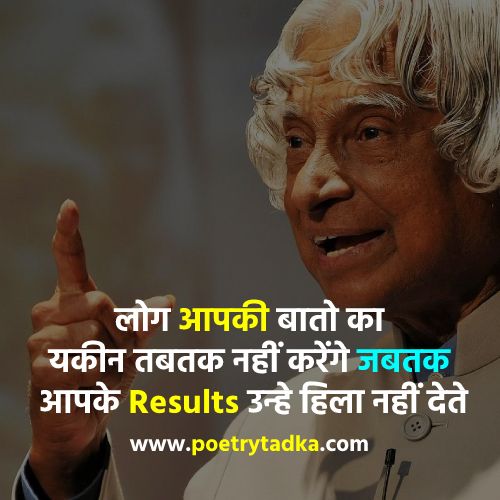 इंतजार करने वाले को उतना ही मिलता है,
जितना कोशिश करने वाले छोड़ देते हैं
Intajaar karne vaale ko
utna hee milta hai.
Jitna koshish karne
vaale chhod dete hain.