सुन लेता हूँ बडों की बातों को खामोश हो के,
वक्त जाता है,
पर अनुभव दे जाता है Experience Quotes In Hindi
Is Snaan Ka Agar Qarz Ada Kar Sako To Ganga Snaan Ki Shayad Koi Zaroorat Nahi Rahti.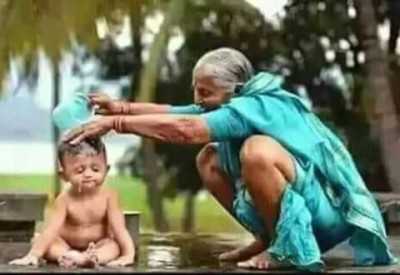 Na Jaane Kitne Rishtey Khatma Kar Diye Is Bharam ne.. Ki Main Sahi Hun Aur Sirf Main He Sahi Hun. Poetry Tadka's Latest Post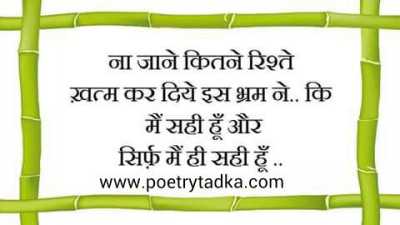 Ye Alag Baat Hai Ki Kinare Pe Khada Hun Lekin...!!! Haan Main Ye Janta Hun Ki Kon Kitne Paani Me Hai. Inspirational Quot Of The Day.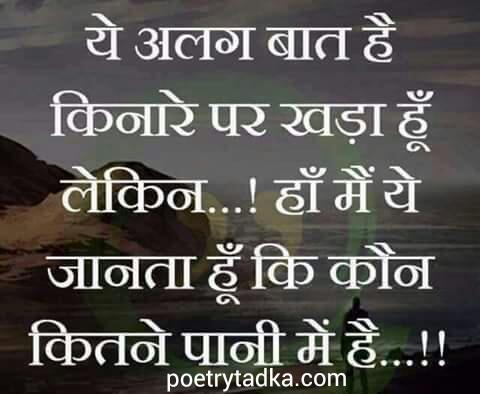 मेरे वजूद की कोई कीमत नहीं !
छोटा समझ कर नज़रों से गिराया दिया !
वो छोती सी तीली भी आधी ही जली थी !
जिसने पूरा जंगल जला को जला दिया !!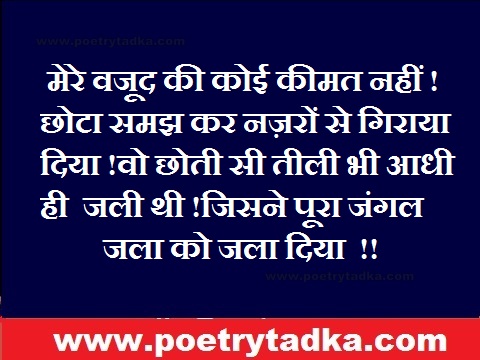 हम तो वो हे जो तेरी बातेँ सुन कर
तेरे हो गए थे….!!
टूटा आईना लगता है हर शक़्स का वजूद यहाँ !
फ़ैली हुई है हर तरफ नाकाम मुहब्बत की कहानियाँ !!