Selfie Quotes
Now selfie quotes collection at poetry tadka mirror selfie quotes in Hindi. So go below and find take a selfie quotes. Also at this page you can downlad selfie stataus for Whatsapp
सेल्फी लेते वक्त पेट को अन्दर खीचना
कोई कला से कम नहीं होता
Selfie Lete Waqt Pet Ko Andar Kheechana
Koi Kala Se Kam Nahin Hota.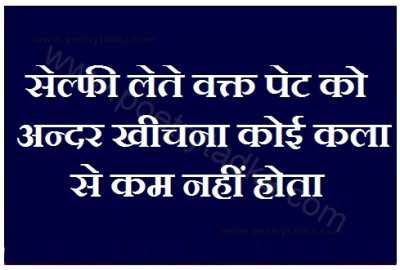 कुछ लोग शादी पार्टी में सिर्फ इसलिए जाते है
ताकि सेल्फी निकाल कर Facebook पर अपलोड कर सके
Kuchh Log Shadi party Mein Sirph Isalie Jaate Hai
Taaki Selfie Nikaal Kar FB Par Upload Kar Sake.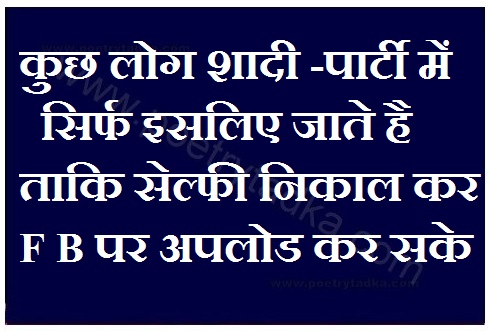 सुन पगली जितनी FB पे तेरे फ्रेंड है
उससे ज्यादा तो हमारी सेल्फी पे लाईक कॉमेट है
Sun Pagli Jitne Fb Pe Tere Friend Hain,
Usse Jyaada To Hamaaree Selfie Pe Like Comment Hain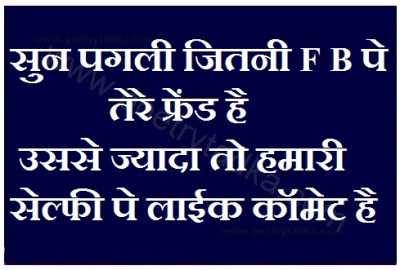 आजका लड़के या लडकिया अगर गंगा में नहाने जाए
तो पहले फोटू खीच कर Facebook फर अपलोड करेंगे
Aajaka Ladake Ya Ladakiya Agar
Ganga Mein Nahaane Jayen
To Pahale Photo Kheech Kar
Facebook Phar Apalod Karenge.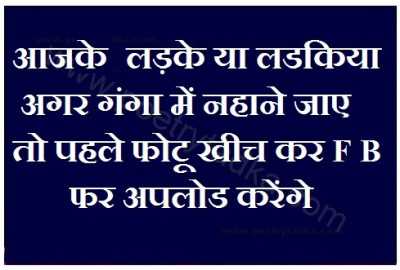 करीब आ तेरी आँखों में खुद को देख लू
बहुत दिनों से सेल्फी निकाली नहीं मैंने
Kareeb Aa Teree Aankhon Mein Khud Ko Dekh Loo
Bahut Dinon Se Selfie Nikaalee Nahin Mainne.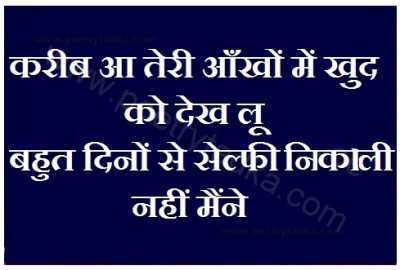 सेल्फी लेने में २ सिकेंड लगते है लेकिन
इमेज बनाने में ज़िन्दगी गुजर जाती है