Koi rasta nahi dua ke siva koi sunta nahi khuda ke siva maine bhi zindgi ko karib se dekha hai mere dost muskil me koi saath nahi deta aansu ke siva.
Sad Shayari of the day in Hindi
मैने अपने "दिल" से कहा ऐ दिल अब तु उसे भुल जा
तो कम्बख्त "दिल" ने कहा
साहिल" तु हद से बाहर की बाते ना किया कर !!
एक और शाम बीत चली है तुझे चाहते हुए !
तू आज भी बे-खबर है, बीते हुए कल की तरह !!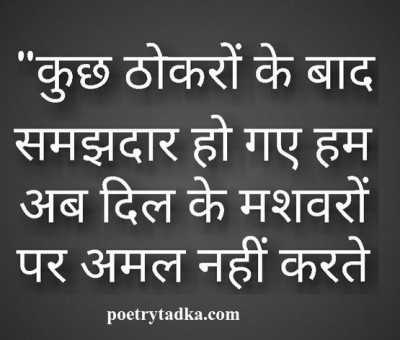 kuch thokro ke baad samajhdar ho gaae hum !
ab dil ke mashwro par amal nahi karte !!