Pyar Ki Shayari
Welcome to Pyar Ki Shayari In Hindi ! प्यारी सी शायरी website by team poetry tadka. Pyar Ki Shayari In Hindi like प्यारी सी शायरी at poetry tadka Pyari Si Shayari page.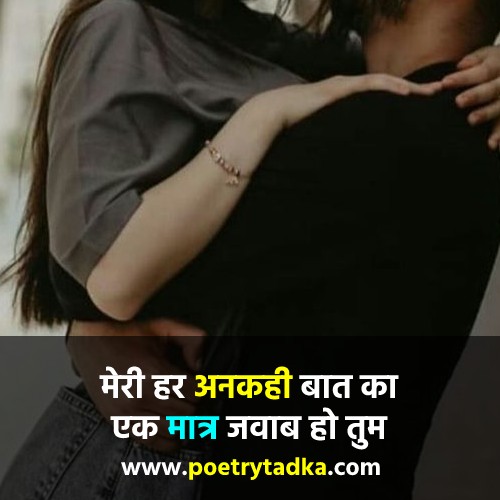 मेरी हर अनकही बात का
एक मात्र जवाब हो तुम..!!
Meri har ankahi baat ka
aik matra jawab ho tum.

दुनिया को खुशी चाहिए ओर
मुझे हर ख़ुशी में सिर्फ तुम
Duniya ko khushi chahiye
aur mujhey har khushi me sirf tum.

इंसान अगर दिल से खेलना छोड़ दे तो
किसी की भी मोहब्बत अधूरी नही होगी!
Insan agar dil se khena chhod de to
kisi ki bhi mohabbat adhoori nahin hogi.
सच्चा प्यार वही है जिसमे दोनों ही
एक दूसरे को खोने से डरते हों
Sacha Pyar Wahi Hai Jisme Dono Hi
Ek Dossre Ko Khone Se Darte Hon.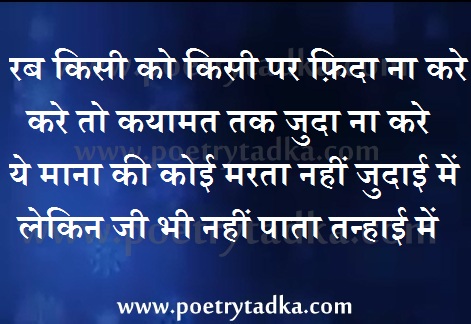 रब किसी को किसी पर फ़िदा ना करे

करे तो कयामत तक जुदा ना करे

ये माना की कोई मरता नहीं जुदाई में

लेकिन जी भी नहीं पाता तन्हाई में
सब को प्यार करने के लिए हम इस दुनिया में आए थे,

पर बीच में आपप जरा ज्यादा पसंद आ गए.
तुम एक बार मुझसे मुझ; जैसी मोहब्बत करके तो देखों यार

प्यार उम्मीद से कम हो तो सजा-ए-मौत दे देना