New Year Shayari | 55 Happy न्यू ईयर शायरी 2023 in Hindi
With the New Year 2023 approaching, we would like to acquaint you with the New Year shayari in Hindi for 2023. These shayari are gathered from different well known sources and designed by our team. So on the new year 2023, send and share these New year shayari with your companions that are local to Hindi lovers. You can likewise set these shayari as a whatsapp status in your social applications like facebook and whatsapp. So that various individuals might be able to see these collection of New Year Shayari.
दुःख का एक लम्हा भी किसी के पास न आये,
खुदा करे न्यू ईयर सबको रास आये।
हैप्पी नई ईयर 2023।
duhkh ka ek lamha bhee kisee ke paas na aaye,
khuda kare new year sabako raas aaye.
Happy new year 2023.
सर पे उम्मीदों की गठरी लादकर बेहाल हूँ,
मैं समय हूँ, लोग कहते साल हूँ।
sar pe ummeedon kee gatharee laadakar behaal hoon,
main samay hoon, log kahate saal hoon.
खुशियों की बौछार दोस्ती है,
एक खूबसूरत प्यार दोस्ती है।
साल तो आते जाते रहते हैं,
पर सदा बहार होती दोस्ती है।
Khushiyon kee bauchhaar dostee hai,
ek khoobasoorat pyaar dostee hai.
Saal to ete jaate rahate hain,
par sada bahaar hotee dostee hai.
Dosti happy new year shayari.
मुबारक हो तुम्हे नववर्ष का महीना,
चमको तुम जैसे फागुन का महीना।
पतछड़ न आये तेरी ज़िन्दगी में,
यही है दोस्त अपनी तमन्ना।
Mubaarak ho tumhe navavarsh ka maheena,
chamako tum jaise phaagun ka maheena.
Patachhad na aaye teree zindagee mein,
yahee hai dost apanee tamanna.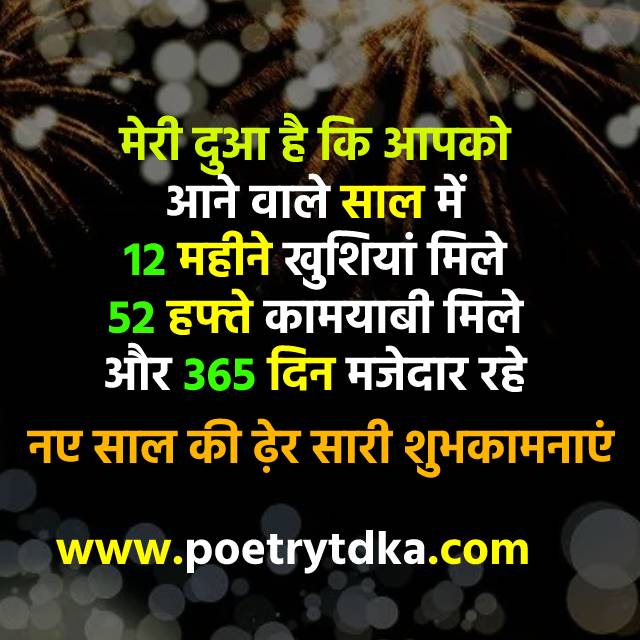 तेरा होना प्यार की तरह,
दिल को छूता है हर बार की तरह।
इस नए साल भी बना रहे,
रिश्ता अपना अटूट हर साल की तरह।
Happy new year love shayari.
Tera hona pyaar kee tarah,
dil ko chhoota hai har baar kee tarah.
Is new year bhee bana rahe,
rishta apana atoot har saal kee tarah.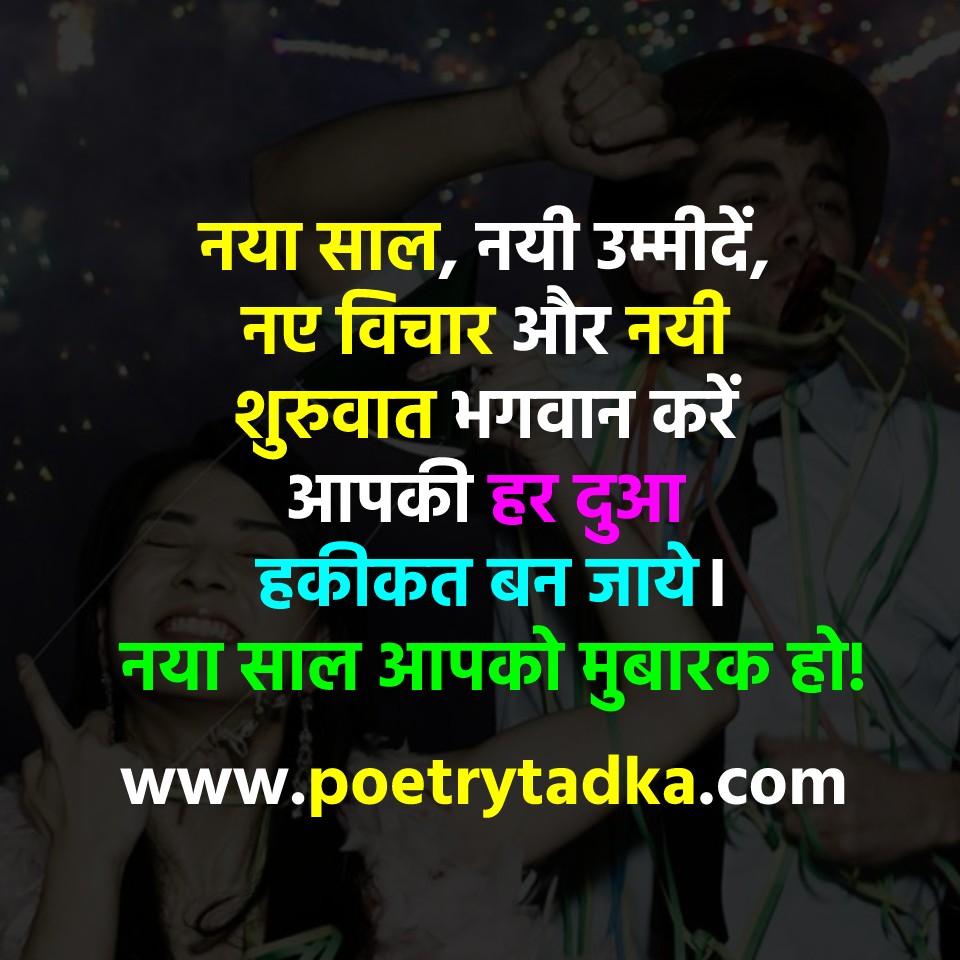 नए साल की आने वाली हर शाम तेरे ही नाम,
होगी चाहत की एक अलग मक़ाम।
करेंगे मोहब्बत तुमसे सुबह शाम।
Happy new year shayari in english for 2023.
New year ki aane vaalee har shaam tere hee naam,
hogee chaahat kee ek alag maqaam.
Karenge mohabbat tumase subah shaam.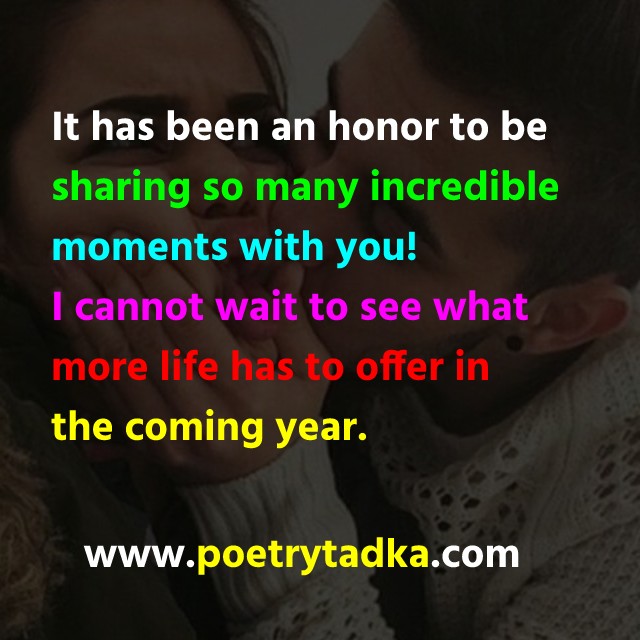 न आँखों में नींद न दिल में करार,
नया साल मुबारक हो तुम हो मेरा प्यार।
Na aankhon mein neend na dil mein karaar,
naya saal mubaarak ho tum ho mera pyaar.
लोग नए साल में बहुत कुछ नया मांगेंगे,
और मुझे वही तुम्हारा साथ पुराना चाहिए।
Log nae saal mein bahut kuchh naya maangenge,
aur mujhe vahee tumhaara saath puraana chaahie.
Happy new year 2023 hindi shayari. This new year 2023 poetry tadka have posted some special post for Happy New year shayari in Hindi for you. So read Happy New Year Shayari for 2023.
कुछ खुशियाँ कुछ आंसू देकर टाल गया,
जीवन का एक और सुनहरा साल गया।
Kuchh khushiyaan kuchh aansoo dekar taal gaya,
jeevan ka ek aur sunahara saal gaya.