Life Quotes
Life Quotes in Hindi - See here largest collection Life Quotes or Quotes on love in Hindi with image at PoetryTadka. Express your feeling with Hindi's largest collections of Life Quotes. Read, Post and share your favorite Life Quotes on Facebook, Twitter, Google Plus with friends.
दुनिया का सबसे _____ मुश्किल काम, अपनों से अपनों को ढूंढना है
Zindagi Ki Kitaab Me Itni Galtiyan Na Karo
Pencil Se Pahle Rabad Khatm Ho Jayegi Aur Taubah Se Pahle Zindagi
हो सके तो दिलों में रहना सीखो
गुरुर में तो हर कोई रहता है
खोज रहा हूँ कब से खुद में खुद को
मुझको मुझी में अक्सर मै नहीं मिलता
mujhko mujhe me Life Quotes
वक़्त बीतने के बाद अक्सर ये अहसास होता है
जो बीत गया वो वक़्त बेहतर था
जनाजा जब उठाओ तो माफ कर देना दोस्तों,
सफर मेरा है परेशान तुम्हे किया....
ज़िन्दगी में कभी उदास मत होना
कभी किसी बात प् निराश मत होना
ज़िन्दगी संघर्स है चलती रहेगी
कभी अपने जेने का अन्दाज मत खोना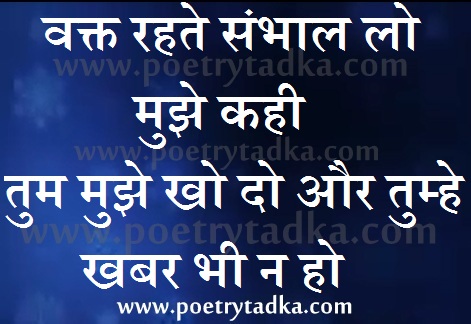 वक्त रहते संभाल लो मुझे कही
तुम मुझे खो दो और तुम्हे खबर भी न हो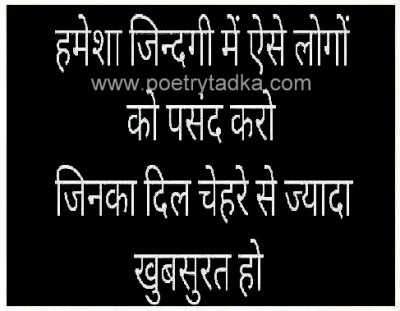 हमेशा ज़िन्दगी में ऐसे लोगो को पसन करो
जिसका दिल चेहरे से ज्यादा खुबसूरत हो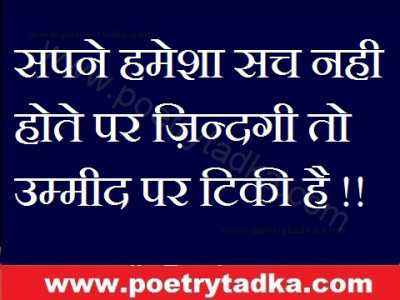 सपने हमेशा सच नही होते पर ज़िन्दगी तो उम्मीद पर टिकी है !!