HD Shayari
Welcome to HD Shayari & Status download in Hindi by Poetry Tadka team. Hi friends now you could download HD Shayari images from poetrytadka website. As we are providing HD Shayari in Hindi.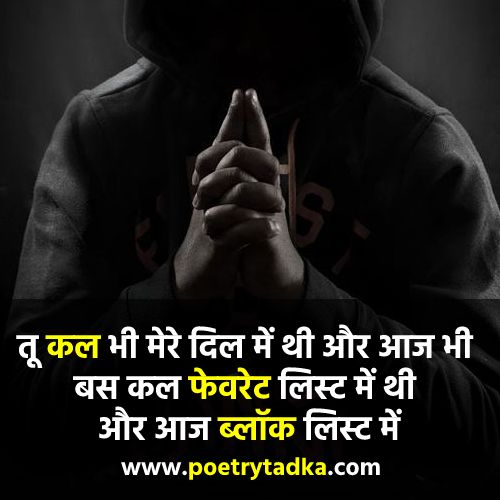 तू कल भी मेरे दिल में थी और आज भी,
बस कल फेवरेट लिस्ट में थी
और आज ब्लॉक लिस्ट में।
हमसे बात करनी हो तो Dil से करना
क्योकि Time Pass तो मैं
Selfie लेकर भी कर लेता हु..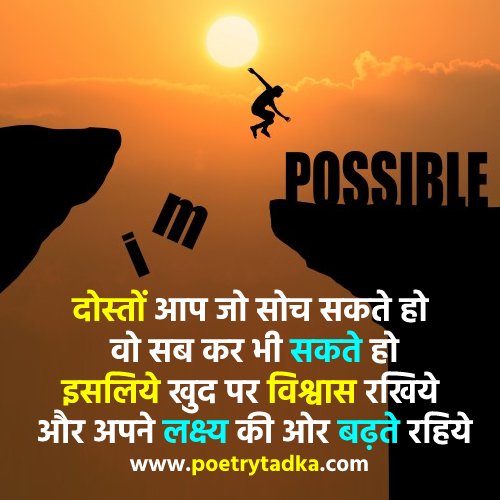 दोस्तों आप जो सोच सकते हो
वो सब कर भी सकते हो,
इसलिये खुद पर विश्वास रखिये
और अपने लक्ष्य की ओर बढ़ते रहिये.
Doston aap jo soch sakte ho
wo sab kar bhi sakte ho.
Isliye khud par vishvash rakhiye
aur apne lakshay ki aur badhte rahiye.
अगर आप रेत पर अपने कदमो के निशान
छोड़ना चाहते है तो एक ही उपाय है
अपने कदम पीछे मत खिचिए
Agar aap ret par pe kdmon ke nishn
chodna chahte hain to aik he upay hain
apne kdam peechey mar kheechiye.
मेरी मोहब्बत बस एक ही उसूल है.
तू जैसा भी है मुझे वैसे कुबूल है।
Meri mohabbat bus aik he usool hain
too jaisa bhi hai mujhe kubool hai.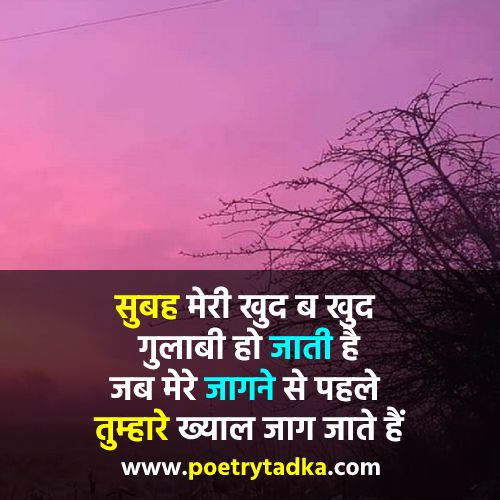 सुबह मेरी खुद ब खुद
गुलाबी हो जाती है
जब मेरे जागने से पहले
तुम्हारे ख्याल जाग जाते हैं
Subah meri khud ba khud
gulabi ho jati hai.
Jab mere jagne se pahle
tumhara khyaal jag jata hai.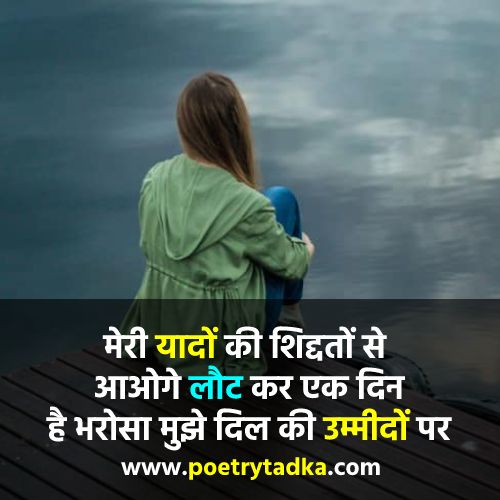 मेरी यादों की शिद्दतों से
आओगे लौट कर एक दिन
है भरोसा मुझे दिल की उम्मीदों पर
Meri yadon ki siddaton se
aaoge laut kar aik din
hai bharosa mujhe dil ki ummeedon par.