मास्टर : अगर तुम्हारे बेस्ट फ्रेंड और गर्ल फ्रेंड दोने डूब रहे हो तो तुम किसको बचाओगे
लड़का : डूब जाने दो सालो को आखिर वो दोनों एक साथ कर क्या रहे थे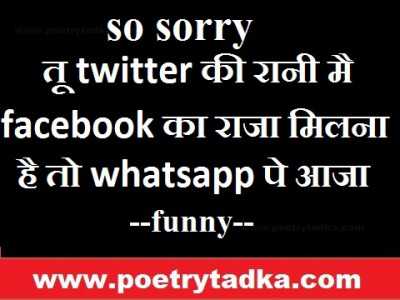 tu teitter ki rani mai facbook ka raja milna hai to whatsapp pe aaja !!funny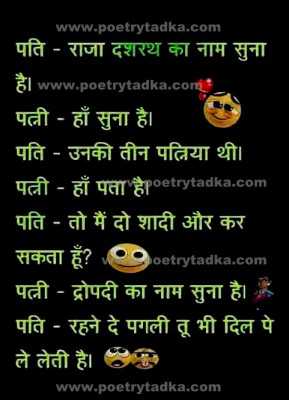 pati : raja dasrath ka naam suna hai
patni : ha suna hai
pati : uski teen patniya thi
patni : ha pta hai
pati : to mai do shadi aur kar sakta hoon
patni : dropdi ka naam suna hai
pati : rahne de pagal tu bhi dil pe le leti hai !!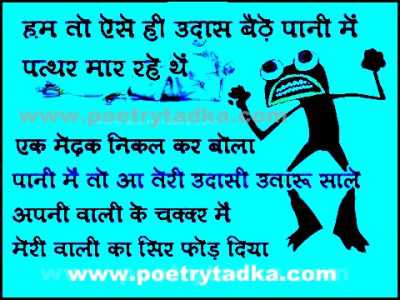 hum to aese hi udas baithe pani me patthar maar rhe the ek medhak nikal kar bola pani me to aa teri udasi nikalu sale apni wali ke chakkar me meri wali ka sar phod diya !!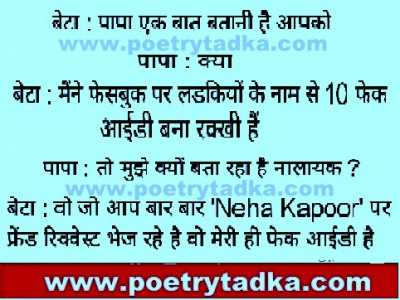 beta : papa ek baat btani hai aap ko !
papa : kya
beta : mene fecbook par ladkiyo ke naam ki 10 feck id bna rakkhi hai !
papa : to mujhe kyu bna rha hai nalayak !
beta : wo jo aap baar baar neha kapoor par ricvest bhez rhe hai wo meri feck id hai !!