Emotional Shayari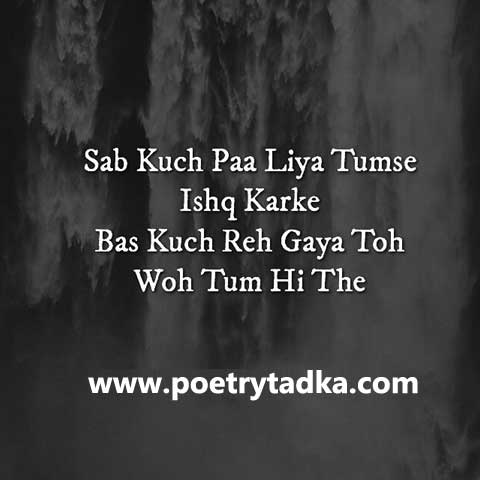 सबकुछ पा लिया तुमसे इश्क़ करके
बस कुछ रह गया वो तुम ही थे.
Sabkuch Pa Liya Tumse Ishq Karke
Bus Kuch Raha Gaya wo tum he they.
एक शख्स ही काफी होता है गाम बाँटने के लिए
महफिलों में तो बॉस तमाशे बनते है
Ek Sakhs Hi Kafi Hota Hai Gaam Bantne Ke Liae
Mahfilo Me To Baas Tmashe Bante Hai.
जब सुनने वाला कोई नहीं होता.
तो लोग अपनी बात स्टेटस में कह देते है
Jab Sun Ne Wala Koi Nahi Hota.
To Log Apni Baat Status Me Keh Dete Hai.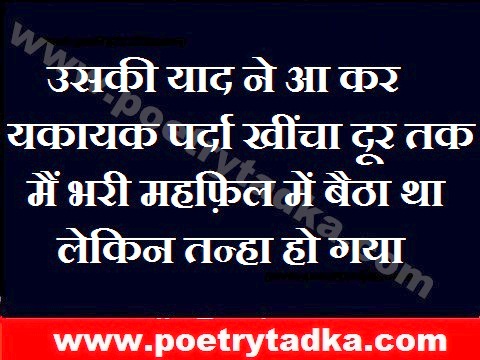 uski yaad ne aakar ykayak parda khicha door tak mai bhari mahfil me baitha tha lekin tanha ho gya
कोशिश करूंगा मैं भी...तुम्हें भुलाने की !
अभी तो मैं...तेरे झूठे वादों को भुलाना सीख रहा हूँ !!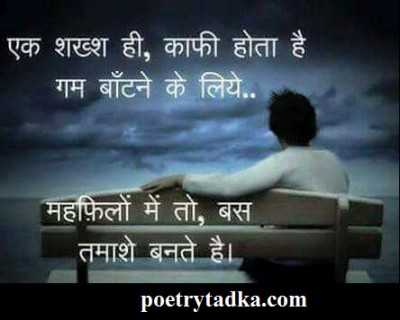 ek sakhs hi kafi hota hai gaam bantne ke liae
mahfilo me to baas tmashe bante hai
किसी की याद मे इतना उदास ना हुआ कर ऐ दोस्त !
लोग नसीब से मिलते है उदासीयो से नही !!