Happy Birthday  SMS ! Birthday Message in Hindi
Looking birthday SMS and birthday Message in Hindi be with us and read birthday SMS in Hindi at birthday SMS page of at poetry tadka.
प्यार से भरी जिंदगी मिले आपको,
खुशियाँ से भरे पल मिले आपको,
कभी किसी ग़म का सामना ना करना पड़े,
ऐसा आने वाला कल मिले आपको।
जन्मदिन बहुत बहुत मुबारक।
Pyar se bhari zindagi mile aapako.
Khushiyan se bhare pal mile aapako.
Kabhi kisi gam ka samna na karna pade.
Aisa aane vaala kal mile aapko.
Janmadin bahut bahut mubaarak.
Happy Birthday

दिल से निकली ये दुआ हमारी,
जिंदगी में मिले आपको खुशियां सारी,
गम न दे खुदा कभी आपको,
चाहें थोड़ी खुशियां कम हो जाएं हमारी। ।।
जन्मदिन की शुभकामनाएं ।
Dil se nikalee ye dua hamaaree,
Jindagee mein mile aapako khushiyaan saaree,
Gam na de khuda kabhee aapako,
Chaahen thodee khushiyaan kam ho jaen hamaaree. ..
Happy birthday.

ye subh din aaae hr sal tum jiye hjaro sal
bas yhi hai meri aarzo happy birthday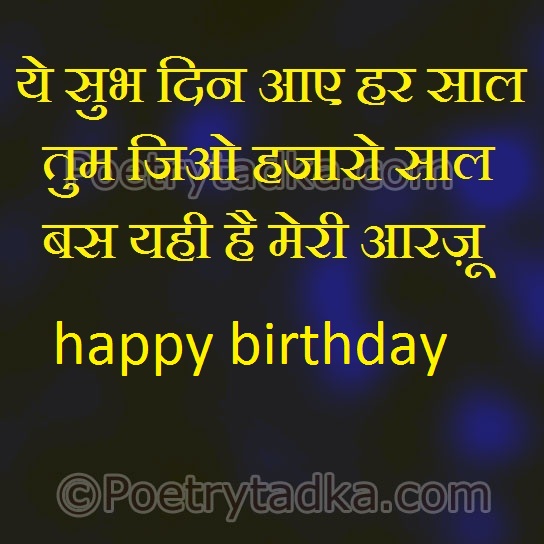 tumhare zanamdin pr duaa hai ye meri ki aesa mubarak bar bar aaae
tumhari hasti hui zindagi ke raho me hjaro phool lutati bhar aaae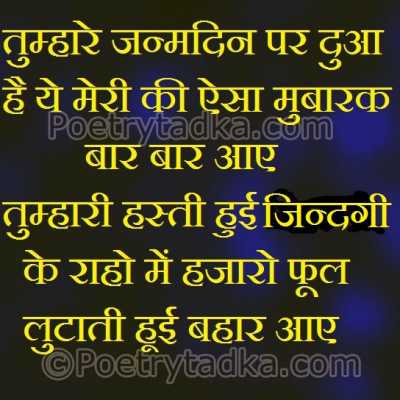 jitne aasman me sitare hai utni umar ho teri
kisi ki nazar na lage ye duaa hai meri