Poetry Tadka
दोस्तों आप जो सोच सकते हो
वो सब कर भी सकते हो,
इसलिये खुद पर विश्वास रखिये
और अपने लक्ष्य की ओर बढ़ते रहिये.

Doston aap jo soch sakte ho
wo sab kar bhi sakte ho.
Isliye khud par vishvash rakhiye
aur apne lakshay ki aur badhte rahiye.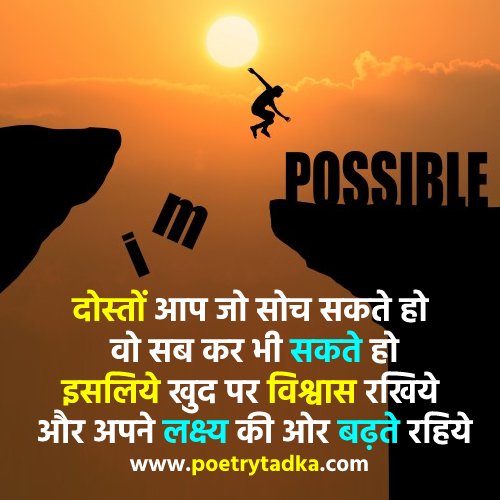 वो जिनके हाथ में हर वक्त छाले रहते हैं,
आबाद उन्हीं के दम पर महल वाले रहते हैं
Wo jinke hath me har waqt chhale rahte hain
abd unheen ke dam par mahal wale rahte hain.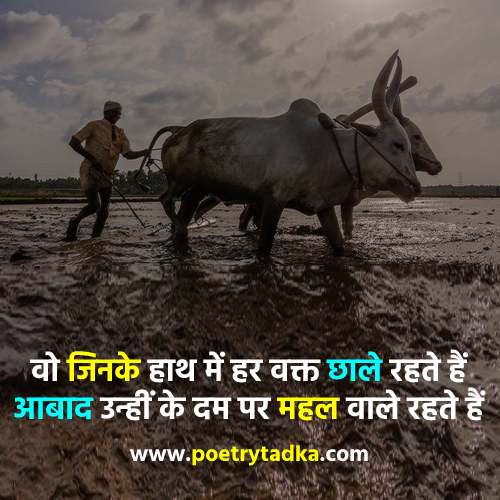 कर हौसला बुलंद तू ना घबरा,
कामयाबी मिल ही जाएगी
तू एक बार छलांग तो लगा |
Kar hausla buland too na ghabra
kamyabi mil he jayegi
too aik bar chhalang to laga.
अगर ज़िन्दगी में सुकून चाहते हो
तो अपने Dream पर काम करो
लोगों की बातों पर नहीं।
Agar zindagi me sukoon chahte ho
to apne sapnon pr kam kro
logon ki baton par nahin.
किसी को ये महसूस मत होने देना
कि आप अंदर से टूटे हुए हो,
क्योंकि लोग टूटे हुए मकान की
एक एक ईंट तक उठा ले जाते हैं ।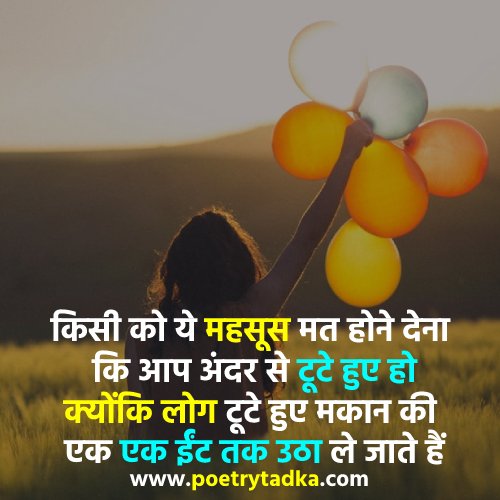 विश्वास करने वाले से ज्यादा बेवकूफ
विश्वास तोड़ने वाला होता है क्योंकि
वह अपने छोटे से स्वार्थ के लिए
एक प्यारे इंसान को खो देता है!