Mirza Ghalib Shayari
2022-06-09 17:04:55

आह को चाहिए इक उम्र असर होते तक,
कौन जीता है तिरी ज़ुल्फ़ के सर होते तक.
Aah ko chaahie ik umr asar hote tak,
kaun jeeta hai tiree zulf ke sar hote tak.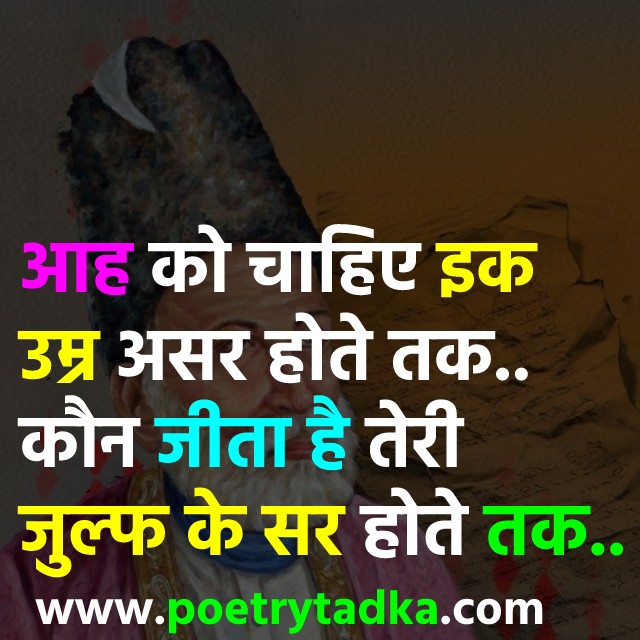 guzar jaaega ye dour bhi ghalib zra itminan to rakh
jab khushi na thahri to gaam ki kya aoukat hai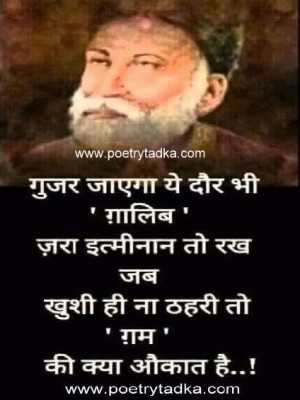 जैसे ही भय आपके करीब आये उस पर आक्रमण कर उसे नष्ट कर दीजिये !!
संतुलित दिमाग जैसी कोई सादगी नहीं है संतोष जैसा कोई सुख नहीं है लोभ जैसी कोई बीमारी नहीं है और दया जैसा कोई पुण्य नहीं है !!
Har Baat Pe kahte ho tum ki too kya hai, tumhe kaho ye andaaz-a-guftagoo kya hai.