Bada Hua To Kia Hua Jaisey Ped Khazoor,
Panthi Ko chhya Nahi phal lage Ati door
बडा हुआ तो क्या हुआ जैसे पेड़ खजूर
पंथी को छाया नही फल लागे अति दूर
Kabir Ke Anmol Vachan in Hindi
जो तोको काँटा बुवे ताहे बोव तू फूल
तोहे फूल को फूल है ताहे है त्रिशूल
Kabir ke dohe in Hindi.
Jo toko kanta buve tahi buve to phool,
Tahe phool ko phool hai tahe hai trisool
पोथी पढी पढी जग मुआ पंडित भया ना कोय
ढाई आखर प्रेम का पढे सो पंडित होय
Kaal kare so aaj kar aaj kare so ab, pal me parlay hoyegi bahuri karoge kab.
Mati kahe kumhaar se too kia raode moy,
Ek din aisa aayega main raudungi toy.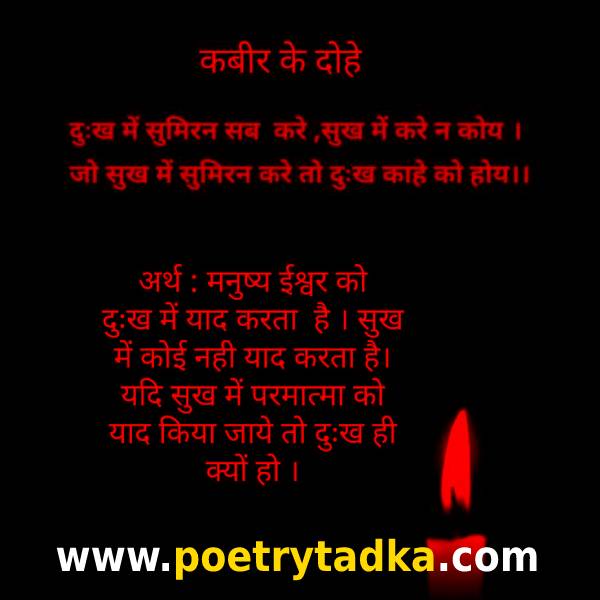 बुरा जो देखन मैं चला, बुरा न मिलिया कोय,
जो दिल खोजा आपना, मुझसे बुरा न कोय।
Bura Jo Dekahan Main Chala Bura na Miliye Koy,
Jo Dil Khoja Aapno Mujhsa Bura Na Koy.